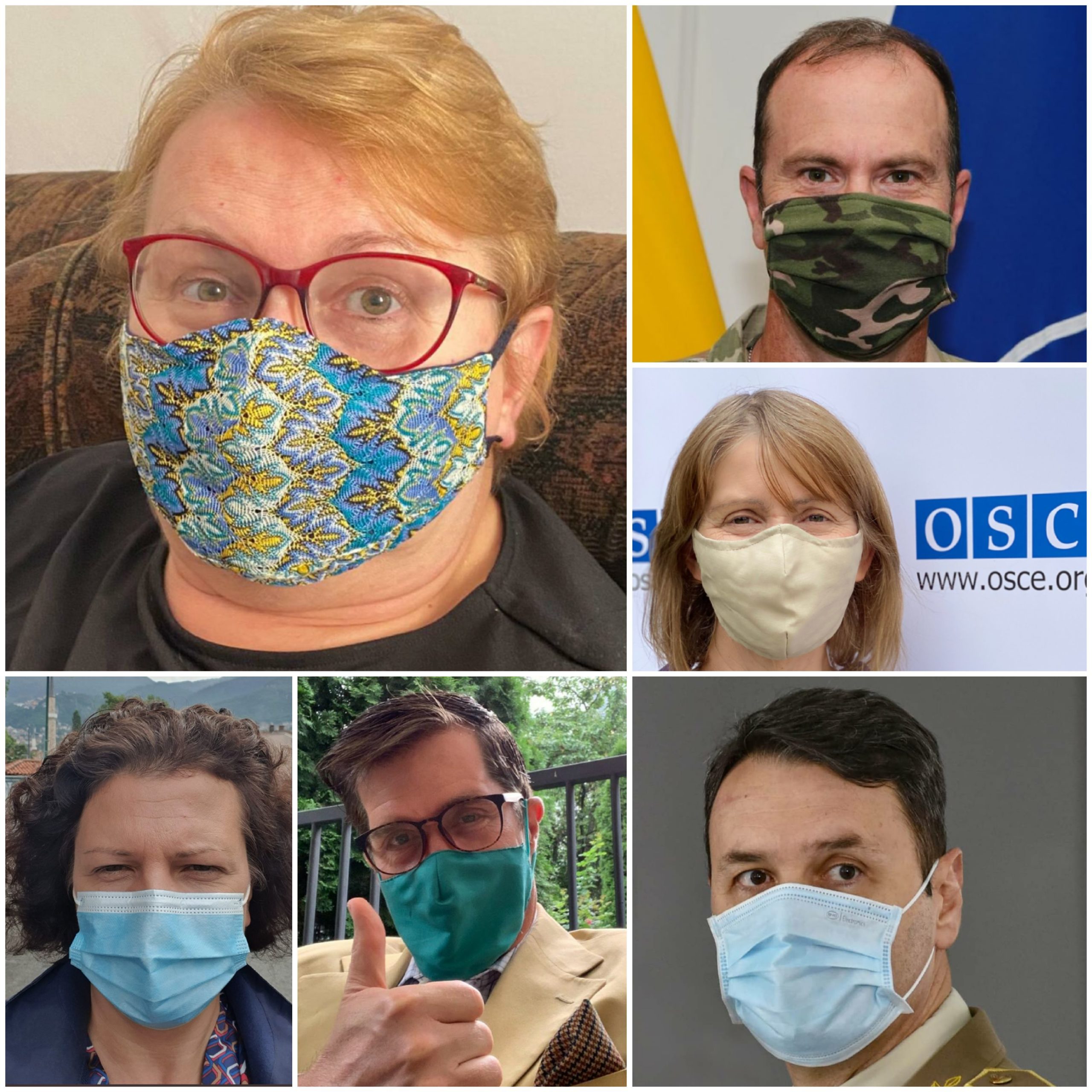 Mnogi su i u BiH prihvatili izazov koji kruži društvenim mrežama pod heštegom #WearAMask, a među njima su i brojne javne ličnosti. Cilj je podizanje svijesti o važnosti nošenja zaštitne maske kako bismo zaštitili sebe, ali i sve oko nas od Corona virusa.
Sudeći prema onome što se može vidjeti među poznatim korisnicima društvenih mreža u BiH, riječ je o svojevrsnom doplomatsko-vojno-političkom bh. lancu.
Tako je američki ambasador  u BiH Eric Nelson prihvatio izazov od Ambasade Republike Slovačke u BiH.
Ambasador SAD Eric Nelson potom je izazvao načelnika Zajedničkog štaba Oružanih snaga BiH Senada Mašovića.
General Mašović potom je uputio poziv komandantu NATO Štaba u Sarajevu, generalu Williamu Edwardsu.
Edwards je prihvatio i izazvao ministra odbrane BiH Sifeta Podžića koji se također odazvao te isti poziv uputio komandantu EUFOR-a generalu Reinhardu Trischaku.
Ministar prometa i komunikacija BiH Vojin Mitrović je prihvatio izazov Steliane Nedera iz UNDP-a.
@MacdonaldIngrid #ChallengeAccepted! I challenge @rsrdjan, @StasaKosarac, @RadojicicIgorMr @khoshmukhamedov to post a #WearAMask selfie and pass it on with #ShowYouCare. All in this together! @UN_BiH https://t.co/sF0BXrE3Jd pic.twitter.com/cIyzQyzTJo

— Steliana Nedera (@steliananedera) August 5, 2020
Ministar Mitrović je među ostalim pozvao i specijalnog predstavnika Evropske unije u Bosni i Hercegovini Johanna Sattlera da učino isto, što je ambasador i učinio.
Yes I care! Prihvatam izazov @MKPBiH. Nosite maske, zaštitite sebe i druge 😷 #WearAMask #StaySafe #ShowYouCare. Poziv za @minasio @vedrandzihic @jostromquist https://t.co/x4000GhReW pic.twitter.com/v8hbIrOyOJ

— Johann Sattler (@josattler) August 6, 2020
Izazov je prihvatila i ministrica vanjskih poslova BiH Bisera Turković.
#WearAMask selfie challenge accepted from the UN BiH. Thanks! #ShowYouCare by wearing a mask and reduce the transmission of #COVID19.

The challenge is passed onto all employees of the #MFABiH on Twitter. Post a #WearAMask selfie and pass it on.

We're all in this together! https://t.co/HtBKR3AQ3N pic.twitter.com/kPpro3PzWw

— Ministry of Foreign Affairs of BiH (@mfa_bih) August 11, 2020
Akciji se pridružila i Kathleen Kavalec, šefica Misije OSCE-a u BiH.
#UN 🇧🇦 #ChallengeAccepted! from @MacdonaldIngrid
I challenge @ZoricaBukinac @RusEmbBih @ReinoutVos @Naessl to post a #WearAMask selfie 😷
& pass it on with #ShowYourCare ## tagging @UN_BiH
#InthisTogether #Zajedno https://t.co/8Yd00PV5HI pic.twitter.com/5nRQNpanAQ

— Kathleen Kavalec (@KathleenKavalec) August 7, 2020
Potom je izazov prihvatio i italijanski ambasador u BiH Nicola Minassi.
Evo me, prihvatam izazov @UN_BiH @josattler i @KathleenKavalec. Nosimo maske, dvije bolje nego jednu. Čuvajmo sebe i druge!

Sempre con la 😷! 2 meglio di 1

Let's fight #COVID seriously & wear masks: 2 are better than 1.

Calling on @AmiraMedunjanin & @ameltukaa to #WearAMask! pic.twitter.com/orXZbUFo45

— Nicola Minasi (@minasio) August 6, 2020
Čeka se da se njegovom pozivu odazovu i Amira Medunjanin i Amel Tuka, a među poznatima koji učestvuju u izazovu #WearAMask su i: britanski ambasador u BiH Matthew Field, zatim Ammara Mustrić, Branko Rihtman, Samir Beharić, Edita Miftari, Nedim Makarević…
#WearAMask selfie challenge accepted from @MacdonaldIngrid and @UN_BiH. (And perhaps time for a beard trim). #ShowYouCare. #StrongerTogether.
Passing the challenge to @VanjaFil76, @AmilaKaracic, @VALERIEin140, @AlexMastilovic and @zvonko_komsic. pic.twitter.com/MJSORiPNad

— Matt Field (@MattFieldUK) August 5, 2020
#WearAMask selfie challenge accepted from @HanaSoko #ShowYouCare#StrongerTogether
Passing the challenge to@unabeyPR @moamerkasumovic @BanKulen @metar_drva @stree_ka @aplatkadin @vrljikomcute @merima_prguda pic.twitter.com/ZKTPBvONPL

— Ammara Mistric (@misstricAmmara) August 10, 2020
I am not wearing trousers. #WearAMask challenge za @HaloKlarisa @sirbega @plavibambi https://t.co/a6NGcxj1xn pic.twitter.com/hlQxbcVdeE

— Branko Rihtman (@neyne) August 6, 2020
#ShowYouCare challenge accepted. Thanks for nominating me Edita.

I challenge @UnaHajdari, @adicerimagic, @vedrandzihic, @Alidav978 and @iamanesa to post a #WearAMask selfie, and pass it on with #ShowYouCare.

My friend Rina and I do care. 😷 Let's flatten the curve – once again! https://t.co/woy4fT0U5X pic.twitter.com/mHxk5qJ4jk

— Samir Beharić (@SamBeharic) August 5, 2020
Challenge accepted #WearAMaskChallenge selfie. Let us be serious about it !
Challenge passed on to @MartinaMlinare1 @LucianoKaluza @SinisaBencun pic.twitter.com/IRWRcAJN7S

— Dr Nedim Makarevic (@nmakarevic) August 6, 2020