Meryl Streep ima četvero djece: Pogledajte kako izgledaju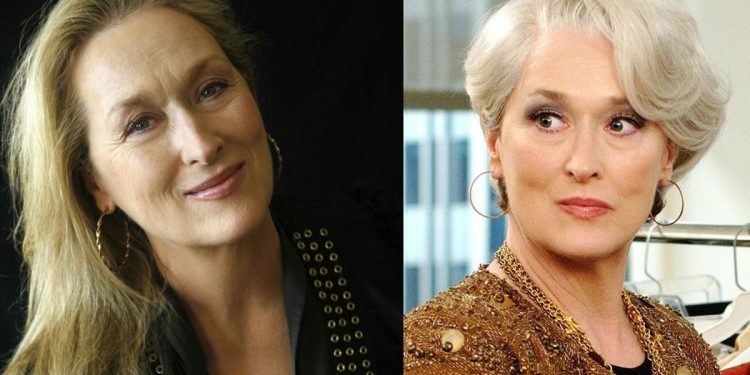 Mary Louise Streep, poznatija kao Meryl Streep je višestruko nagrađivana američka filmska, pozorišna i televizijska glumica. Prvi film bio joj je Julia iz 1977., u kojem je nastupila s Jane Fonda i Vanessom Redgrave.
Komercijalni i kritički uspjeh došao je s ulogama u filmovima Lovac na jelene s Robertom De Nirom i Kramer protiv Kramera s Dustinom Hoffmanom, a za posljednji je dobila svog prvog Oscara. U karijeri je dobila tri Oscara, sedam Zlatnih globusa, dva Emmya i dvije BAFTA nagrade. Drži rekord po broju nominacija za Oscara s njih 21. Streep se smatra jednom od najcjenjenijih i najtalentiranijih glumica svih vremena. Jedna je od rijetkih glumica koji su dobili sve tri najvažnije filmske nagrade (Oscar, Zlatni globus i Nagradu udruženja filmskih glumaca).
PTRIVATNI ŽIVOT
Meryl ne živi tipičnim životom holivudske zvijezde, njen privatni život, brak i porodica, nikad nije bio tema kojom su se bavili tabloidi. Možda je upravo to jedan od razloga dugovječne karijere na vrhuncu. Kad je 2012. za ulogu Margaret Thatcher primila Oscar, u emotivnom govoru sa suzama u očima prvi je put na bini Kodak Theatrea spomenula supruga Dona. Zahvalila mu se istaknuvši da sve vrijednosti do kojih drži u životu duguje upravo njemu. Kipar Don Gummer upoznao je tri godine mlađu sestru dugogodišnjeg prijatelja Harryja na zajedničkom druženju. Bila je to mlada Meryl Streep. Ubrzo se par upustio u strastvenu vezu. Iako se oporavljala od smrti svoje prve velike ljubavi, Don joj nije bio prolazna utjeha. Nakon samo nekoliko mjeseci veze Meryl i Don vjenčali su se na skromnoj i intimnoj ceremoniji u domu njenih roditelja u Connecticutu. Bilo je to u septembru 1978. godine. Donu su tada bile 32, a Meryl 29 godina. U proljeće sljedeće godine proslavili su vjenčanje u krugu prijatelja na otkačenoj, ali vrlo ležernoj koktel-zabavi.
– Neki su ljudi ludi za religijom, neki za poslom, neki za slavom, neki za materijalnim dobrima. Ja sam uvijek bila luda samo za osnivanjem porodice. Oduvijek sam težila pronaći pravog čovjeka s kojim ću osnovati meni tako svetu zajednicu. Nikad nisam mogla zamisliti da živim sama – rekla je jednom Meryl.
Meryl i Don imaju četvero djece. Sina Henryja i tri kćerke, Mary (Mamie) Willu, Grace Jane i Louisu . Svu djecu Meryl je na izričit zahtjev rodila kod kuće u Connecticutu umjesto u bolnici.
– Mnogo je teže biti roditelj nego glumica. Gluma donosi pohvale, zadovoljstvo, novac, a roditeljstvo ni­­šta od toga. Od njih nećete čuti riječi zahvale. Da­­pače, nekad neće ni sto pospremiti za sobom ako ih ne upozorim. Kad su djeca bila mala, putovala su sa mnom u Afriku, Australiju, Veliku Britaniju, a kako smo živjeli u Connecticutu, trudila bih se svaku večer dolaziti kući. Sjećam se da sam snimala u New Yorku i onda bih svaku večer helikopterom jurila kući – ispričala je Meryl i dodala da joj je puno lakše sad kad su djeca odrasla, iako se nije prestala brinuti o njima, kao i svaka majka.
Nevjerovatno je koliko njena djeca liče na nju, a u nastavku pogledajte njihove fotografije:
Mamie Gummer, glumica:
Louisa Gummer, model i manekenka:
Grace Gummer, glumica:
Henry Wolfe Gummer, autor pjesama:
Pratite nas na društvenim mrežama