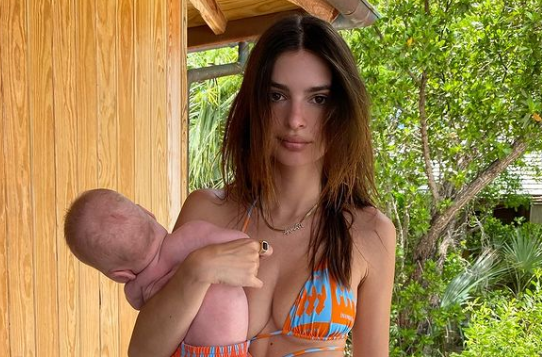 Manekenka Emily Ratajkowski nedavno je postala majka. Na svom Instagram profilu pohvalila se novim fotografijama. Naime, povodom svog rođendana objavila je nekoliko fotki, na kojima drži tromjesečnog sina Sylvestra Apolla.
Emily, još poznata kao Emrata, na slikama bebicu pridržava rukom uz bok, ali je većinu njenih pratitelja uznemirilo što mu ne čuva vrat i glavu.
– Rođendanska večer s partnerom za putovanja iz snova , napisala je u objavi.
View this post on Instagram

Glumica je ubrzo onemogućila komentiranje ispod objave, ali su kritičari nastavili na Twitteru.
hey @emrata are comments turned off on your latest insta post because you know you're holding your baby dangerously and don't want people talking about it? 🤔🤔🤔

— Fenleigh ✨ (@fenniefoxx) June 6, 2021

– Emrata dijete drži kao da je ručnik za plažu i zatim ugasi komentare – komentirala je jedna osoba slijed događaja. Drugi su je isto upitali zašto je to napravila, ali se glumica nije oglasila.
u know the anxiety you feel when you see little kids manhandling their pets? yea that's how i feel about emily ratajkowski holding living things pic.twitter.com/XYDVqoqKMb

— °°° (@friedgoId) June 6, 2021
– Znate onu nervozu koju osjećate kad vidite malu djecu koja razvlače svoje ljubimce? Tako se ja osjećam kad vidim kako Emily Ratajkowski drži živa bića – rekao je neko i dodao fotografije Emily sa sinom i s malim psom u rukama.
Čak je i britanski voditelj Pierce Morgan komentirao fotografiju.
"Ovako se ne nosi dijete i ne bi trebala poticati milionne svojih pratitelja da rade isto. Rado ću ti udijeliti koji savjet ako treba", napisao je on.
That's not how you hold a baby @emrata – and your millions of followers shouldn't be encouraged to do the same. Happy to give you some tips if you need them. pic.twitter.com/IcduCA4tMQ

— Piers Morgan (@piersmorgan) June 7, 2021

Izvor:24.sata.hr
(Dž.S.)